Principal Message
From Principal's Desk -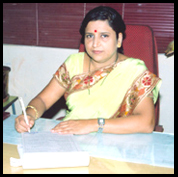 Renowned leader and Ex. M.P. late Mrs. Kesharbai Kshirsagar alias Kaku established Navgan Shikshan Sanstha in 1971.She was a great visionary and always thoughtful about the poor and downtrodden people of this area as this is the backward area in all respects.The students of this region, who are from poor and backward families, should get the quality higher education was the intension behind the establishment of this institution. It was  started with a small plant and now, it has been grown up into a big tree.
Sow. Kesharbai Sonajirao Kshirsagar alias Kaku Arts, Science & Commerce college is one of the branches of this institution. It was started with 215 students and today near about 3500 students are learning in this college. Since the beginning we have been trying our best to impart quality education to all. Our students and faculties have been achieving various milestones and doing well in curricular and co-curricular activities . We have been producing merits and competent human beings as well for the betterment of society. The college has been reaccreditated  by  NAAC with ' A' Grade.The college is certified  with  ISO  9001:2008.
 The college is helping the students of this backward region to move from darkness to enlightenment and doing well in this regard. Along with Arts, Commerce and Science the college runs other courses – Vocational courses, Crop Science, Microbiology, Music, Dramatics, Geography etc.
            Principal
Dr.Mrs.Deepa Kshirsagar.
Mrs.K.S.K.College,Beed.