Home
Welcome to 

Mrs. Kesharbai Sonajirao Kshirsagar Alias Kaku College 
Mrs.K.S.K. College, run by Navgan Shikshan Sanstha Rajuri (N) was Established in June 1971 by Mrs.Kesharbai Kshirsagar Ex.M.P. Beed with a noble and foresighted vision for providing higher education to rural youth. The College is affiliated to Babasaheb Ambedkar Marathwada University, Aurangabad, permanently since 2004.
The college is now a full fledged multi-faculty institution with students strength of about 4500. The College runs Junior stream in Arts & Science, M.C.V.C. and Under graduate courses in Arts, science and commerce faculties. The college offers Microbiology, Computer Science Biotechnology, Dramatics, Music, Home Science as optional subjects at U,G. Level.
The college runs post graduate Departments in the subjects: English, Marathi, Hindi, Political Science, Sociology, History, Geography, Music, Dramatics, Home Science, Botany, Zoology, Microbiology, Computer Sci. and Commerce.
QUALITY POLICY
The organization is committed to create a center of academic excellence in the field of, Degree courses, Post graduation, certificate courses, Diploma courses & Vocational courses in order to fulfill the social and business requirements by holistically developing future achievers / performers having the right knowledge, skills & attitude for business & life.
This shall be achieved through continually improving the Quality Management System with our maintained systematic approach by involvement of each & every member of our organization.
Goals and Missions Of the Institution
• To create liking for education among the students and raise their educational standard, to effect their moral and physical development with the view to fulfill the expected objectives, to establish and conduct primary and secondary schools, colleges.
• To create facilities for the industrial and professional training.
• To give impetus to the research work of the education issues, study and teaching.
• To do all such other necessary and incidental things for the fulfillment of the objectives.
Quality Objectives
1) To provide higher education to the backward and rural youth and to make them self reliant and disciplined.
2) To ensure the overall personality development of the 50% of students through extra curricular and co- curricular activities.
3) To organize various extension activities for cultivation of democratic and human values.
4) To transfer the knowledge and skills for fulfillment of changing needs of rural society in the process of modernization.
5) To provide the opportunities of higher education for upliftment and empowerment of rural women.
6) To develop the abilities of right kind of leadership amongst the students in all works of life.
7) To provide the finest opportunities and environment for teaching, learning and research.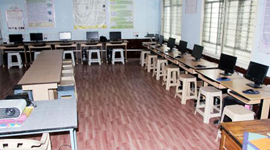 The College has well equipped Computer lab with internet connectivity. The computers have become integral parts of teaching learning activity.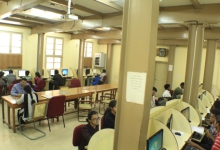 The library has a collection of 74700 titles. 71 journals are subscribed to - 55 journals for UG and 16 for PG. 200 Educational CDs...